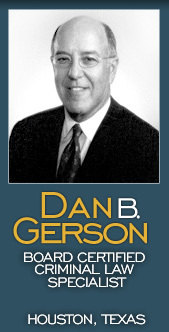 Tale Of The Mustafas
By Dan B. Gerson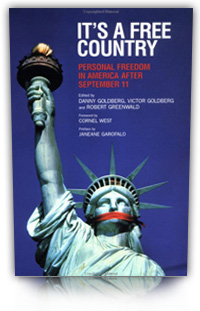 Mr. Gerson wrote the following chapter for the nationally published book It's A Free Country.
     On September 15, 2001, two Middle Eastern men, sixty-seven-year-old Fahti Mustafa and his son, twenty-four-year-old Nacer Mustafa, traveled by air from Leon, Mexico to Bush Intercontinental Airport in Houston, Texas, en route to their home in Florida. They had gone to Mexico on September 9 in order to purchase leather and other dry goods to be resold in Fahti Mustafa's dry goods store located in their hometown of Labelle, Florida, a small agricultural town. Fahti Mustafa, a Palestinian-American who became a United States citizen in 1972, took Nacer, who is also a United States citizen, having been born in Puerto Rico, along with him to help because Fahti is very hard of hearing and suffers from other medical problems, including diabetes and heart disease.
     The father and son were originally scheduled to return to Florida on September 13, but due to the emergency shutdown of air travel following the terrorist attacks of September 11 were unable to travel until the 15th. The Mustafas landed in Houston and presented their United States passports to immigration authorities. An INS officer thought that he saw something suspicious about the passports and called in an FBI agent, who, after detaining the Mustafas, summoned an agent of the State Department Diplomatic Service, which is in charge of passport matters. The State Department agent, who also happened to be part of the Gulf Coast Terrorist Task Force, concluded that each passport, although issued at separate locations and dates, had been altered by the placing of an extra layer of laminate over the existing laminate. Both Mustafas, after being taken to separate rooms and questioned, denied any knowledge of improprieties regarding their passports. The agent, Christopher Culver, tried to get Nacer to admit that he had altered his passport and asked to which country he would like to go if deported. Nacer told the agent that he was a United States citizen, but that information did not seem to make an impression on the agent. A criminal complaint was filed against both Mustafas alleging that they were in possession of altered passports.
     In the complaint, Agent Culver swore that the passports "had obviously been altered with the introduction of an additional clear sheet on top of the genuine laminate." He explained how altered passports can be used to aid terrorist activity and drug-smuggling organizations. The agent attempted to cast the Mustafas in the worst light, stating that, when questioned, "The Mustafas declined to offer any explanation," when in fact they denied knowledge of any alterations. He suggested that no records were available regarding Fahti's naturalization, and characterized Nacer's nickname and family name as "aliases."
     Both Mustafas were placed in the Federal Detention Center in Houston, Texas. The assistant United States attorney handling the case requested that both Mustafas be detained without bail as flight risks because of "national security." The pre-trial services officer, in this relatively minor case that would ordinarily result in a sentence of approximately six months incarceration or probation, recommended detention. At the detention hearing, Agent Culver, although admitting that he had no evidence linking either Mustafa to terrorism, expanded his earlier allegations and showed the magistrate judge where the passport had been taken apart and resewn. He also repeated to the court how altered passports can be used to aid terrorism and drug smuggling. In court the Mustafas presented records and witnesses that showed that they were stable citizens of their county. The judge considered everything about the Mustafas suspicious: the fact that both father and son had traveled to the Middle East; the year that Nacer graduated high school; whether or not Fahti was retired or operated a business. The whole process was skewed against the Mustafas in light of the events of September 11. They were definitely not being afforded the presumption of innocence even though none of the September 11 hijackers were Palestinian and none were United States citizens. Following the hearing, and after eleven days in jail, Fahti was released (just barely). He was required to wear an electronic leg monitor and to remain under a curfew that amounted to a virtual home arrest, allowing him to go to work during the day. The next day, Fahti, in ill health, hard of hearing, and speaking poor English, afraid to get on an airplane, took a bus home to Florida.
     The magistrate, in a scathing detention order, denied Nacer bond and detained him as a flight risk and a possible threat to national security. This is a man that lives in the same small town as his parents, operates his own filling station, has a wife and two small children, and whose only conviction was a misdemeanor probation for assault that he lived out. Nacer immediately appealed the magistrate's detention order. The district judge wrote an even more harsh opinion upholding the detention. In it he questioned how a small store-owner could afford to travel to the Middle East and cited the aliases and false birth dates and social security numbers that Nacer had allegedly used in the past. Apparently some law enforcement officer had written down his date of birth and social security number with one digit off or transposed; and as stated before, his "aliases" were his nickname "Victor" and his mother's last name.
     Nacer sat in the Federal Detention Center for sixty-seven days, far from home, missing his family, locked up in his own country, and charged with an offense for which he was totally innocent. Shortly before the case was set for trial, the assistant United States attorney received a scientific report from the INS lab that showed that there was no evidence that the two passports had been tampered with or altered. The cases were dismissed and Nacer Mustafa was let out of the Federal Detention Center. He received no explanation and no apology, he just walked out. Both Nacer and Fahti filed petitions under the Hyde Amendment, requesting that the government reimburse them for reasonable attorney's fees because they had been wrongfully prosecuted. In order to collect money from the government under the Hyde Amendment, the prevailing defendant must show that the government's actions were "frivolous, vexatious, or in bad faith." We claimed that Agent Culver's assertions that the passports had obviously been resewn and altered were, in fact, frivolous, vexatious, and in bad faith. The same district judge who denied Nacer bail wrote the opinion denying the Hyde Amendment claim, stating that in this time of dire national emergency all parties working for the government acted "in the utmost good faith."
     That is the end of the legal saga of Fahti and Nacer Mustafa, but their lives have been altered by what they have gone through. Nacer wonders what his customers and neighbors are thinking when he speaks to them, feeling that perhaps he is under suspicion even though everyone knows that the charges were dropped. He keeps the dismissal papers handy to show people if they are interested or curious. Nacer maintains a lower profile than before and is a little more guarded, refraining from loud conversations and debates with his friends and family when out in public. Fahti has gone through a heart bypass operation since his release, and, according to Nacer, sometimes just sits and stares into space. The hardest thing, says Nacer, was hearing his father in the next cell, crying. "This man has never even had a parking ticket, and he loves this country, but we were innocent, and look what they did to us."
     Unlike the hundreds of Middle Eastern men who were detained indefinitely after September 11, held in secret without criminal charges or due process of law, the Mustafas were given due process. However, due process did them little good when all parties involved, including the arresting agent, the pre-trial services officer, the federal prosecutor, the magistrates, and the district judges took the worst view of the Mustafas and concluded that they were a risk to national security. Both men were incarcerated, humiliated, prosecuted, and forced to spend a large amount of money to defend themselves … collateral damage in the war against terrorism.
Dan Gerson is an attorney at law in Houston, Texas.

The information you obtain at this site is not, nor is it intended to be, legal advice. 
You should consult an attorney for individual advice regarding your own situation.