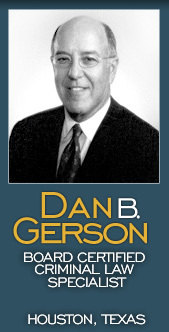 About
Dan B. Gerson, since 1974, has established a law practice dedicated to the vigorous defense of people accused of committing crimes. He has successfully represented clients in state and federal courts in Texas and throughout the United States in all types of criminal cases including capital murder, complex white collar cases, large drug conspiracies, appeals, probation and parole revocations, as well as every day criminal cases such as drug possession, assault, theft, juvenile cases and driving while intoxicated and is regarded as one of the best criminal defense lawyers in the State of Texas.
    Mr. Gerson has achieved an A.V. rating by Martindale Hubbell, which means that he has achieved the highest rating for ability and ethics a lawyer can receive, as reported by his peers.
Mr. Gerson has been a Board Certified Criminal Law Specialist since 1979, awarded a Certificate of Special Competence in the area of Criminal Law by the Texas Board of Legal Specialization.
Mr. Gerson has represented clients in large state and federal cases all over the United States including, California, Massachusetts, Florida, North Carolina, Oklahoma, Louisiana and more.  Mr. Gerson has also successfully represented defendants in thousands of criminal cases. Hundreds of jury trials successfully tried including: state and federal drug cases involving large cocaine, marijuana, methamphetamine, heroin and estacy conspiracies, murder, weapons, immigration fraud, mail fraud, bank fraud, theft, assault, Driving While Intoxicated, criminal mischief. He is also a member of the TCDLA, NACDL, and has been on the Board of Directors of the Harris County Criminal Lawyer's Association and was the creator and Host of the television show "Reasonable Doubt". Dan Gerson has handled many high profile cases, is a published author and has appeared on national news shows including CBS news and Fox News and has been frequently quoted in major newspapers including The New York Times, The Washington Post and the Houston Chronicle.
Admitted: 1974, Texas; 1975, U.S. Court of Appeals, 5th Circuit; 1983, U.S. Supreme Court; 1990, U.S. District Court, Southern District of Texas, 1974, US District Court, Western District of Texas 1990. Law School: University of Houston, J.D., 1974. College: University of Texas at Austin, B.A., 1969. Member: State Bar of Texas; National Association of Criminal Defense Lawyers; Texas Criminal Defense Lawyers Association. Harris County Criminal Lawyer's Association. Biography: Order of the Barons. Languages: Spanish. Born: Phoenix, Arizona, September 15, 1947.
Jay Blass Cohen began working with Dan Gerson in 2010. Together they represented people accused of committing all types of crimes in both State and Federal court. They have tried, and won, many cases together, including Murder, Possession of Controlled Substance, Assault on a Family Member, and DWI.
Practice Areas
Criminal Defense; Driving While Intoxicated; Drug Cases; Misdemeanors; Parole and Probation; White Collar Crime; Criminal Appeals; Death Penalty; Felonies; Homicide; Mail Fraud; Manslaughter; Murder; Search and Seizure; Sex Crimes; Sexual Assault; Theft; Civil Forfeiture; Assault and Battery.
Please feel free to contact me at your convenience. I am glad you have chosen to
visit my web site. I hope your visit was informative to your needs and come back again.
Dan B. Gerson
917 Franklin Fourth Floor
Houston, Tx 77002
Phone: 713.227.5125
Fax: 713.227.5147

The information you obtain at this site is not, nor is it intended to be, legal advice.
You should consult an attorney for individual advice regarding your own situation.